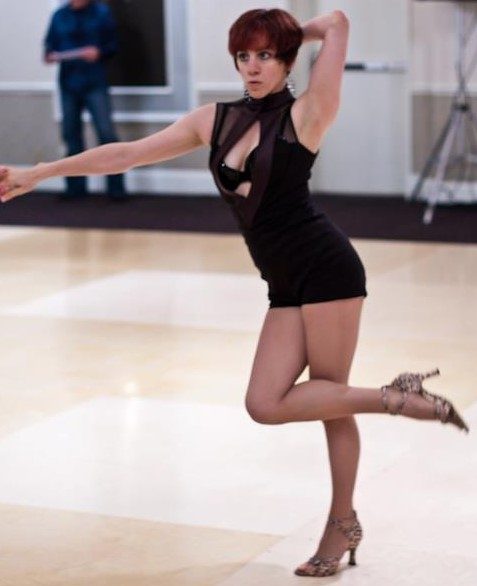 Stephanie
Stephanie Risser Loveira began studying dance at an early age, starting with Ballet and moving on to Modern, Jazz, and Tap.  After earning a BFA in Dance Pedagogy at the University of Hartford/School of the Hartford Ballet, she taught in Pennsylvania and Connecticut while continuing to perform with different groups in both states. She also began to experiment with partner dancing.
After a few years, Stephanie moved to Philadelphia to direct a ballet program and began teaching Ballroom and Latin.  After a brief time competing in International Latin, Stephanie began competing professionally in Hustle.  After winning many Hustle championships and becoming one of the premiere Hustle dancers, she started competing in West Coast Swing as well.  It only took a few years for Stephanie to reach the upper levels of that community. She has also continued teaching many forms of dance including American Smooth, American Rhythm, Ballet, Jazz, and Modern, while traveling the country to compete, teach, and judge. In 2017, Stephanie and her husband moved to the Charlotte area where she continues to teach dance locally as well as across the country.
Throughout all of this, Stephanie continued to cross train in Pilates. She was first introduced to the method in college as part of her physical therapy and rehabilitation after an injury. The effectiveness of Pilates inspired her to continue to seek out classes no matter where she lived, using it not only to keep her in shape, but to help her recover from injuries and to inform her dancing. For 20 years, Stephanie continued her own practice. After moving to Mooresville, Stephanie found 15 to Fit. She had been interested in training to become an instructor, and this studio inspired her to make the commitment to share and expand her love and knowledge of movement and Pilates with more people. Stephanie is excited to join the 15 to Fit team and can't wait to help her clients get healthier
and to experience the same physical and mental benefits of Pilates that she has!