Star of the Month – June 2018
Our Star of the Month is Marcia! Despite her incredibly busy schedule with international travel she prioritizes her health! She
Read more.
Our Girl is Going to NSCA!
Patrea will be attending the NSCA conference in July AND speaking to the attendees alongside some of the top strength
Read more.
Choosing Chewing Gum
Chewing gum is very popular for several reasons: It freshens your breath It keeps your mouth busy with something beside
Read more.
Star of the Month – May 2018
Stanley! How long have you been taking Pilates? I've been taking Pilates for 3 1/2 years. What do you like
Read more.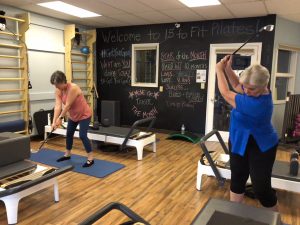 She's Kind of a Big Deal.
Our golf fitness class is taught by the one and only Karen Jansen! She's the current VP of the LPGA,
Read more.
Summer Slim-Down & Shape Up Weight Loss Challenge
You may have seen our owner, Patrea Aeshliman, posting on social media about her weight loss journey through food logging
Read more.
Girl Scout Cookie Diet – RESULTS!
So, my goal was to lose 7-8 pounds of fat in April.  This was a prodigious goal.  The parameters of
Read more.
How To Increase Your Veggie Intake With Breakfast
Girl Scout Cookie Diet – Day 31
Read more.